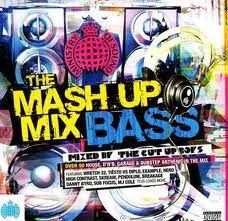 2011 is fast becoming recognised as the year that Bass took over the world. Garage is seeing its most notable revival since its domination of the charts at the turn of the century, Drum 'n' Bass continues to frequent the Radio 1 playlist and the success of Dubstep doesn't look like its coming to a halt any time soon.

So with the summer on the horizon it is only fair that we let The Cut Up Boys out of their cage to create some of the biggest custom-made collaborations in dance music. Where else would you find Luck & Neat in tandem with Tiesto & Diplo or an Alex Gaudino flowing over a Flux Pavillion production?! Add to the mix speaker blowing anthems from Example, Nero feat. Wizard Sleeve, Skream, Pendulum, MJ Cole plus a whole host of others and you have one dangerous album!

Ministry of Sound presents 100 mashed up tracks of bass fuelled house, drum 'n' bass, garage and dubstep mixed by the unstobpabble Cut Up Boys!